Radio Control Jet International magazine is published every two months by Traplet Publications Limited in the UK. If you want to know what's happening on the jet model scene, this magazine is for you! We have been advertising in RCJI from day one back in the Spring of 1993.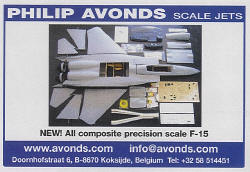 Current advert in RCJI magazine
We sell the Current issue and also most of the back issues, see list of available back issues below.
Current issue: € 6,90 each (back issues: € 5,90 each)
Shipping costs: see table below